Ride the Slopes Like Never Before
Come explore the breathtaking Whistler backcountry on our purpose built Snowbikes. Terrain for all levels, from novice to expert.
Our Snowbikes
2018 Yamaha YZ450F with Yeti 129 Freeride
Our specially modified Yamaha YZ450 four-stroke snowbikes, combined with the top of the line Yeti Freeride Kits, provide a perfect balance of power and handling.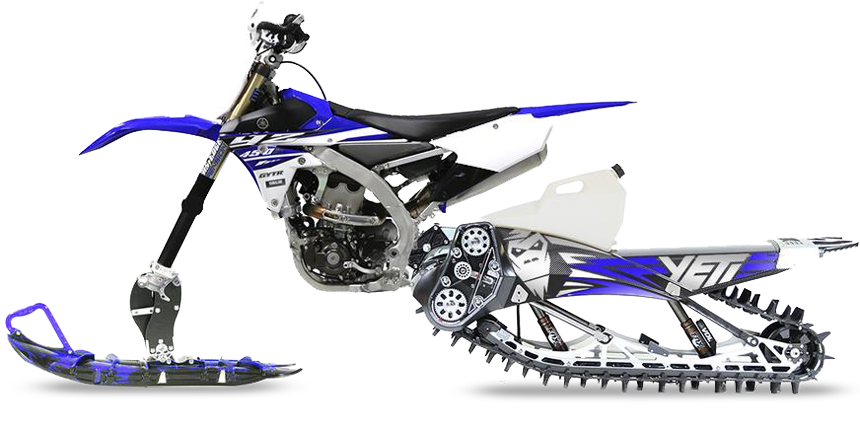 With the ability to navigate all mountain areas and conditions, from trees, to wide open slopes, to big powder bowls, these machines will not disappoint!
High Performance
With our high performance bikes, we accept full responsibility for perma-grins, happy dances and excessive hooting and hollering.
The Perfect Location
Located a short 10-minute drive from Whistler Village, Brandywine Recreational Area has the perfect terrain and features for all levels and styles of riders.
Multi-day Renting
We offer discounts for 2+ day rentals, as well as 2+ bike rentals.
Pricing
All options require a 25% deposit upon reservation.
Half Day
$ 250
Up to 3 hours riding
Pick-up at 9am
Drop-off at 1pm
Full Day
$ 425
Up to 7 hours riding
Pick-up at 9am
Drop-off at 5pm
Find Us
We're located in Whistler BC, Canada.
Riding Location
Brandywine Main Parking Lot,
Whistler BC
*Booking required!
Head Office
1060 Shakespeare Ave,
North Vancouver BC,
V7K 1G1
Give us a ring
8am - 6pm, 7 days a week
1.778.938.RIDE (7433)
info@whistlersnowbikes.com